Speaker(s) / Presenter(s):
Elizabeth Weaver, MPS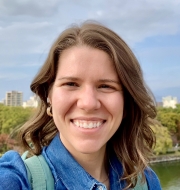 Title: A GLIMPSE INTO THE WORLD OF MATHEMATICAL PUBLISHING
Zoom Link: https://uky.zoom.us/j/89417600368?pwd=SERCZW05eWJxdkI1aHRteGpQTXpIZz09 (pwd: 721322)
Abstract: Do you want to make people more confused than when you tell them you study mathematics? Try telling them that you work as a copy editor for mathematical journals. While I envisioned myself having a career in academia, I quickly found myself in a position that wasn't the right fit for me, and, as luck would have it, ended up discovering a rewarding career as an editor for mathematical journals. It's the perfect blend of my skills: familiarity with advanced mathematics and attention to detail. In this talk, I'll describe a bit of how the editing and publishing process works at MSP, talk more generally about the world of non-profit mathematical publishing, and highlight ways that you can become involved with the process, no matter what career in mathematics you choose to pursue.
Type of Event (for grouping events):