Mathematics Annual Graduate Alumni Day
Date:
03/31/2021 -

4:00pm

to

4:50pm
Speaker(s) / Presenter(s):
Murat Akman, University of Essex
Type of Event (for grouping events):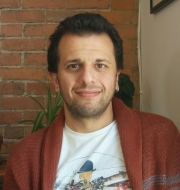 Title: A COMPARISON OF THE UK AND THE US ACADEMIC JOB MARKETS FOR MATHEMATICIANS
Zoom Link: https://uky.zoom.us/j/82869293864?pwd=cVFHdWxlTm5YenE0ME5jUEZvdE1odz09 (pwd: 882569)
Abstract: I did my first postdoc in Spain and got my permanent job in the UK. Although there are some similarities, I found the academic job market and application processes in Spain and in the UK significantly different than the US job market. In this talk, I briefly go through my academic career and talk about my experiences in Spain and in the UK. I will also give some practical information for postdoctoral and permanent job applications in Europe and in the UK.