Speaker(s) / Presenter(s):
Eric B. Kahn, Bloomsburg University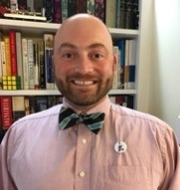 Title: A TRANSFORMATION: THE JOB YOU FIND, THE CAREER YOU IMAGINED
Zoom Link: https://uky.zoom.us/j/85713254019?pwd=NFUycm4rZ2dzMFdGOXFUdm9WNFdqdz09 (pwd: 358383)
Abstract: More than likely, the first job you land will not be exactly the one you imagined for yourself; at least it wasn't for me. As I concluded my time at UK, I had a tenure track offer from a regional public university while still in the running for a teaching postdoc at a liberal arts college. I had always imagined myself at a small liberal arts college similar to where I attended undergrad but the uncertainty of whether I would be offered the postdoc and even if so, how a subsequent job search would unfold, led me to accept the tenure track position at a type of school I had never considered. In this talk, I will share with you some of the choices I made once at Bloomsburg University to transform my first faculty job, one originally full of uncertainty, into a rewarding career and permanent decision.
Type of Event (for grouping events):