by Whitney Hale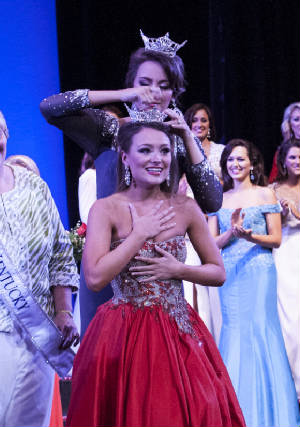 On June 29, University of Kentucky senior Jenna Day, Miss Berea Area, was crowned Miss Kentucky 2013. She will represent Kentucky in the Miss America Pageant to be held Sunday, Sept. 15, in Atlantic City, N.J. The national pageant will be broadcast live on ABC.
A native of Louisville, Ky., Day is the daughter of Daniel and Lesley Day. At UK, Day is double majoring in vocal performance and political science with hopes of eventually pursuing a career in public service.
Day's personal platform issue is "Improving the Lives of Special Needs Children." For her talent performance, she sang "And This Is My Beloved" from "Kismet," for which she received a preliminary talent award. This was Day's fourth year competing for the coveted title. Competing in pageants appears to run in the UK student's family; her mother, aunt and sister have previously competed in the Miss Kentucky Pageant.  
As Miss Kentucky 2013, Day receives more than $12,000 in scholarships and use of a new Lexus during her year of service. Also as part of her title, she will serve as the spokesperson for the Kentucky Department of Agriculture's Kentucky Proud program, which encourages consumers of all ages to purchase products produced in Kentucky.  Day will deliver this message to all age groups in schools throughout the Commonwealth.
In addition to Day, a recent UK graduate was named first runner-up at this year's pageant held at the Singletary Center for the Arts. Kiley Shuffett, Miss Cumberland Falls, is a native of Greensburg, Ky. Shuffett earned her bachelor's degree in Spanish from UK in May.